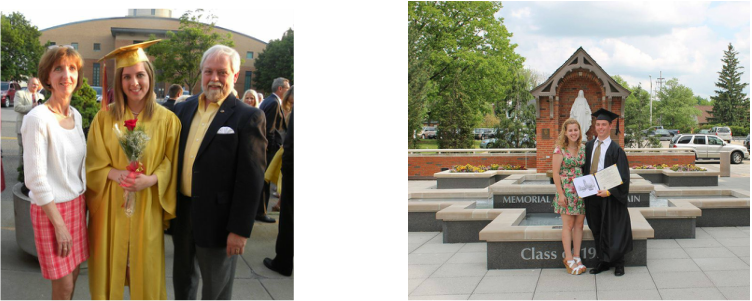 Caitlin Yager, daughter, sister, student, athlete, friend, and humanitarian was lost to us on Christmas night 2013. She passed to the next world in a car accident in which her parents were seriously injured and her brother was also injured. She was 19 years old and had great plans for the future.
During the summer of 2011, Caitlin participated in a program called Face to Face Faith to Faith (F2F) which was sponsored by the Presbyterian Seminar in New York City. Sixteen students from the United States, Northern Ireland, South Africa and Israel/Palestine spent two weeks in a camp in up State New York. They learned about each other's religion, politics, life styles, customs etc. All with the intent of promoting world peace. That experience matured her in many ways. She became more determined to learn more about the world's religions and history in order to make the community, the country, and world just a little bit better. On Christmas Day 2011, she flew with her friend Stephanie to Northern Ireland to reconnect with the people she meet at F2F. Meeting their friends and experiencing Northern Ireland was another step in her growth.
PANDA was another organization in which Caitlin participated in as a student leader. Sponsored by Meridian Life she helped to teach middle school students about drugs, bullying, the inter net, peer pressure and leadership. Since her passing, PANDA has annually awarded The Caitlin Yager Award to the student who most emulates her character.
Caitlin was a 2012 graduate of Cardinal Mooney High School. She was an honor student, cross country runner, and an inspiration to all the students and teachers who knew her. She was a dedicated student, athlete and a volunteer whenever she saw a need.
After high school graduation, Caitlin began studies at Marietta College where she was in the honors program and a member of the cross country and track teams. Caitlin was a member of the student senate and the senate representative to the schools board of directors. With no inter faith organization on campus, Caitlin approached the administration to begin one. With their approval of the by-laws and funding for her and another student to attend an inter faith conference in Chicago during the summer of 2013, an interfaith program was created at Marietta College.
Caitlin pledged Sigma Kappa sorority during her freshman year and was elected recruiting chairman for the 2014-2015 school year. She went to New Orleans for alternative spring break 2013 to paint houses for those in need. Whether it was volunteering at Hospice, the Ursuline Mother House, or where ever she saw a need Caitlin wanted to help and she did!
Caitlin had a full schedule planned for 2014. She was booked to go to Nicaragua on a mission trip for alternative winter break and was also registered at St Petersburgh University in Russia for winter semester. She was chosen by Marietta College to attend summer law classes at Cambridge University (U.K.) which she was really excited about because she wanted to attend law school after graduating from Marietta College. Caitlin was also planning to go to Las Vegas that summer for the Sigma Kappa recruiting conference.
Although Caitlin spent only 3 semesters at Marietta College, she had earned enough credits for an associate degree. She was postulate awarded into Phi Alpha Theta for her scholastic accomplishments in history. For all of her accomplishments and fir all the people she touched in her 19 years she will be most remembered for her scratch baking, her personal thank you notes and her unique little sayings like "It's Chill". When she knew that someone had a bad day or if anyone needed a pick me up, she would bake them one of her tasty treats from scratch. Caitlin wrote at least one thank you note to someone every day. The note could be a formal one in the mail or on a simple piece of paper that the person would find. Caitlin was appreciative of everything she had and of everything that was done for her. Whether it was someone who had lent her a tissue or being named to go to Cambridge University, Caitlin was appreciative.
Appreciate and help others are the great lesson that can be learned from her life.